Melanie has pointed out to me that I seem to be in a bit of a depression, and I think she's right. My voices become more internal than external. I have things to say, but I only say them to myself, because they don't seem worth sharing, or because making the words takes what seems like an enormous effort. I find myself killing time until I can sleep.
Over the years though I've developed some coping skills that help me keep a relatively even keel. When things become too difficult, I recognize why, and instead of beating myself up, I try and shift gears a bit. Roll with the punches, so to speak. If I'm not feeling like shooting, don't stress over it. Just shoot less, until the muse comes back. It will and does come back. Sometimes in short guest appearances, sometimes for an extended booking. Whatever. Just roll with it.
Rest assured, behind the scenes, I'm still me, still doing what I do, just not being as vocal about it.
Anyway, just thought I'd post that bit of an update addressing my absence, and also share a few things with you.
One is this article by Ken Rockwell entitled "Your Camera Doesn't Matter". It echoes my own feelings, namely, that it's not the lens, it's the person behind the lens. It's the not the camera, it's what you do with it. Any camera can take great shots, if you use it correctly. That doesn't mean any camera can take any shot. It means that within the limitations of any camera, you can produce good work. Know the limitations and either compensate or work within them. If there are faults, avoid them or exploit them to your advantage (think
Holga
). A camera's job is to get out of the way of the photographer, and actually this is the reason I have found myself upgrading my cameras each time I have done so. It's not that I can't get the photos, it's that the camera is slowing me down, getting in my way, and if I have the money, I'd rather avoid that. When I can't afford it though, I use what I have, and do what it takes. That's why I ALWAYS used to shoot on tripod, except in the brightest light. Because that is what I had to do to get the quality I wanted.
Anyway, enough rambling, here's the link.
Your Camera Doesn't Matter
The second thing I wanted to share is some photos from a trip to Abrams Falls in Bristol TN. I went with fellow photographer
Cheryl Dancy
from Abingdon VA. We had a good time, despite the VERY slippery trails and ice. I decided to do mostly detail shots this time... I am already quite happy with the
wide view
shots I have of this fall.
1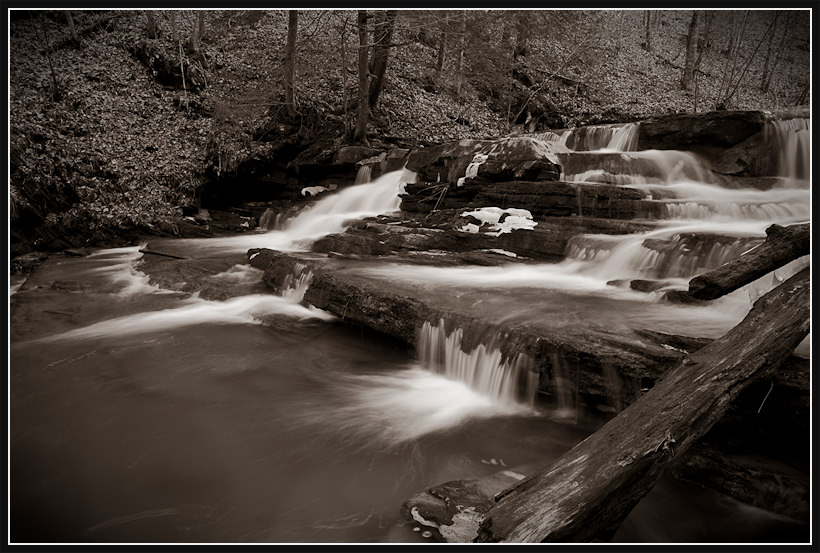 ( +6 )